Danny's Toffee thins are a new take on Cooks famous Brittle. Same fantastic recipe and flavour but squashed right down into very thin pieces that won't hurt your teeth. Danny's Toffee Thins remould and re-invent traditional brittle by taking it out of the past and bringing it towards today. Using fresh Australian peanuts, pure milk chocolate and buttery toffee – what is not to like?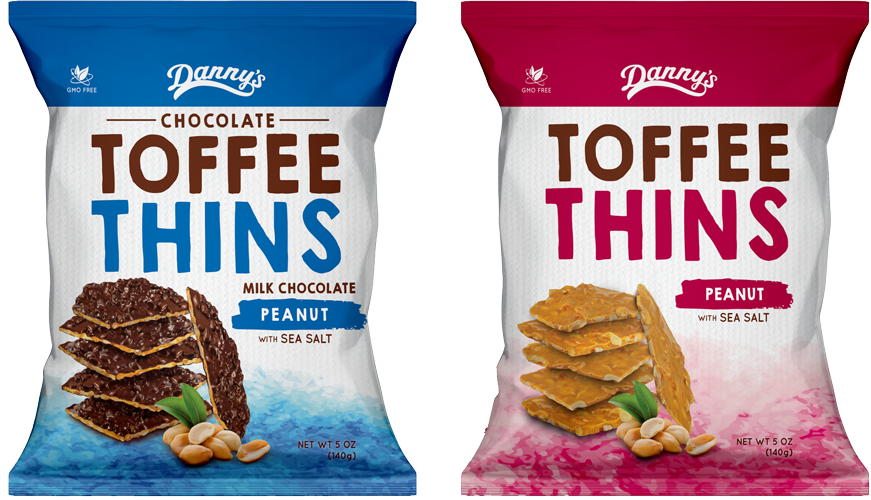 Danny's Toffee thins are one of the most natural and clean-label Toffee's available today:
No Artificial Colours
No Artificial Flavours
No Preservatives
Non GMO
Vegetarian Suitable
Celiac Suitable
Gelatine Free
| | |
| --- | --- |
| Product Description: | Cooks Natural Toffee Brittle formed into super thin snacking pieces. Chocolate coated varieties use Cooks Premium Milk Chocolate. |
| Flavours (Colours): | Traditional Toffee Thins, Peanut Toffee Thins, Popcorn Toffee Thins |
| Available Sizes: | 140g Hang-sell Retail Packs, Peanut Thins 6kg Bulk, Popcorn Thins 5kg Bulk |
| Units Per Carton: | 12 |
| Allergens: | Soy, Milk, Nuts (Tree nuts may be present) |
| Storage conditions: | Store in Cool, Dry conditions away from direct sunlight. 18-23 degrees Celsius. Humidity <50%. |
| Shelf life: | 12 months |
| Country of origin: | Made in Australia |
Private Label
Cooks paste extrusion provides a unique eating experience for yourself or your customers. Customisable in texture, flavours, shape and size with the option of pure chocolate, Cooks experienced specialist team can assist you with all your product development requirements. Please use the contact us form to find out more information.